To submit a request (create a support ticket), go to https://help.pushwoosh.com/hc/en-us/requests/new and fill in the fields: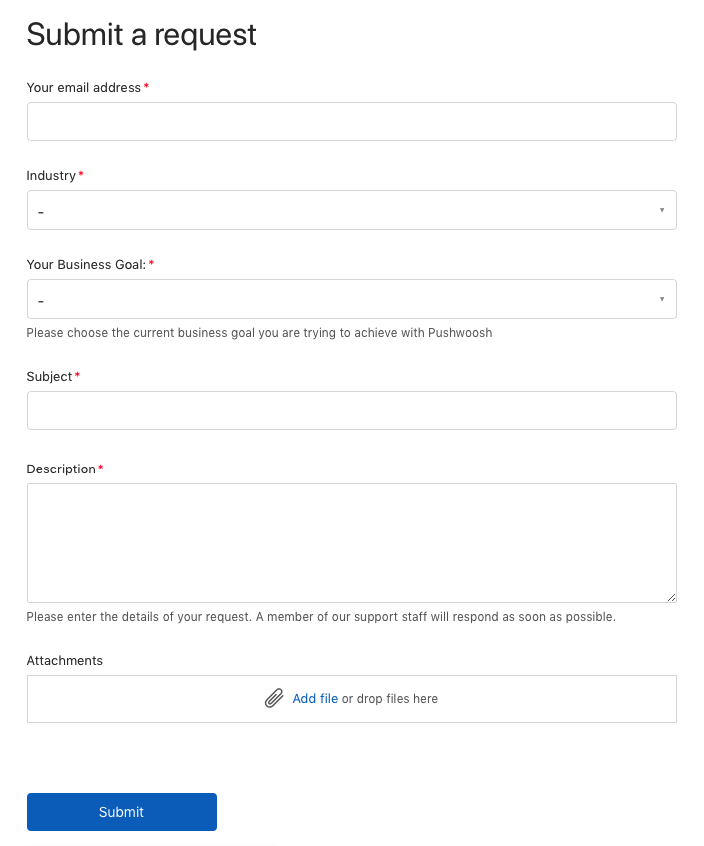 Enter your

email address

into a corresponding field.

If you are logged into the Help Center, your request will be submitted from your account email by default. To send a copy of a request to any other email address, please specify it in the CC field:

Choose an

industry

your company operates in to let us provide the most relevant solutions.

Select a

business goal

you're currently going to reach by using Pushwoosh services. Knowing your goals, we can find the most suitable solution for your ticket.

Specify a descriptive

subject

of your request.
Please pay attention to the Suggested articles below the Subject field. When you're entering your request subject, a system will find all the related articles previously published in our Knowledge Base. Knowledge Base contains descriptions of already solved problems, guides to resolve known issues on your own, and answers to frequently asked questions about Pushwoosh services. Using Knowledge Base, you can find a solution by yourself and shorten the time needed to cope with your problem.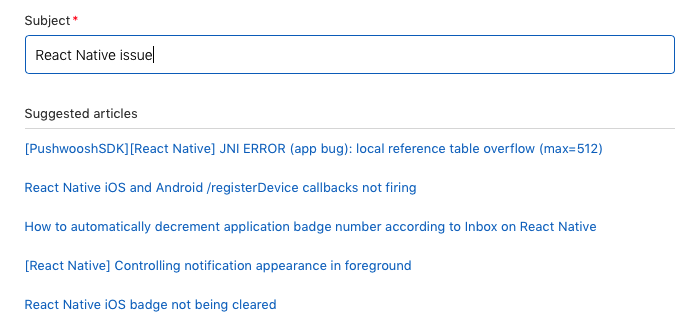 Provide a detailed

description

of your request in the corresponding field. A description may include any information which could help resolve your problem:
any details concerned with the issue, e.g., circumstances preceding or following the issue occurrence, frequency of incident occurrence, etc.

steps to reproduce the incident, details on where and when the incident took place

error messages exactly as you received them when facing an issue

To ease problem investigation, please

attach any files

you find appropriate.

Press

Submit

and complete a captcha to create a ticket.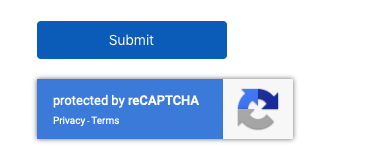 Once your request is submitted, you'll receive the following email:
Our Customer Support Team will respond to your request as soon as possible.
To check your request status, follow a link contained.
Help Center back office
You can find all your requests in Help Center back office. Log into your account and select My activities from the dropdown menu on the top right corner of the screen.
My requests tab — here you'll see all the tickets submitted by you.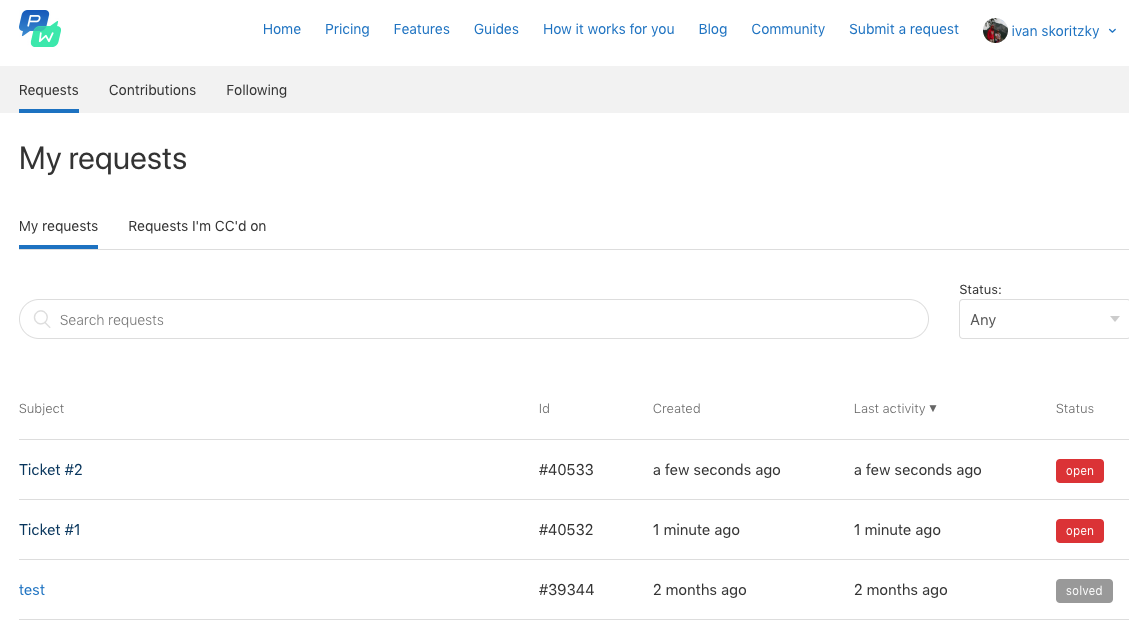 Requests I'm CC'd on tab — here you'll find all the requests for which you're mentioned in a CC field (sent to you as an additional recipient).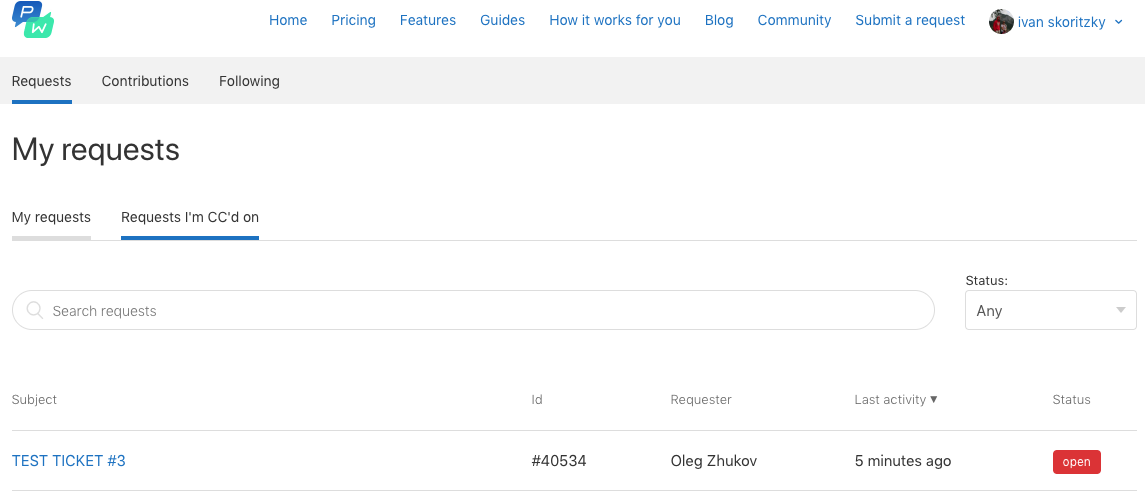 Organization requests tab — in case your company has its corporate account in Pushwoosh Help Center, the Organization requests tab will contain all the tickets submitted both by you and your colleagues. To create an Organization account, please address our Customer Support Team.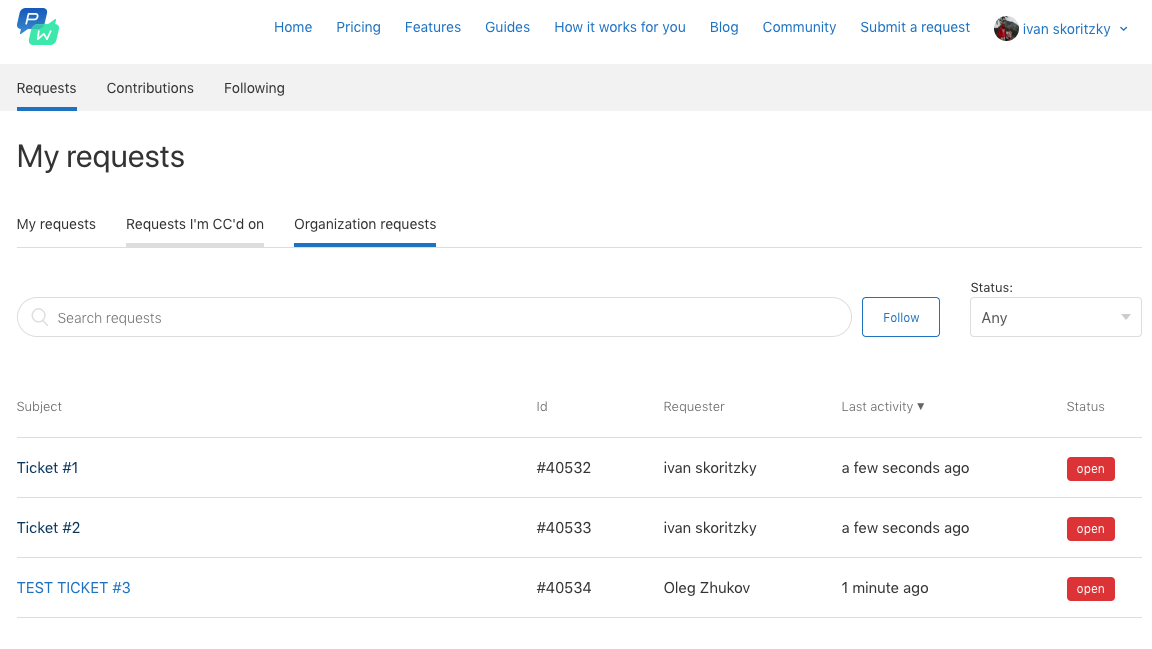 You can search requests by keywords and filter them by statuses.